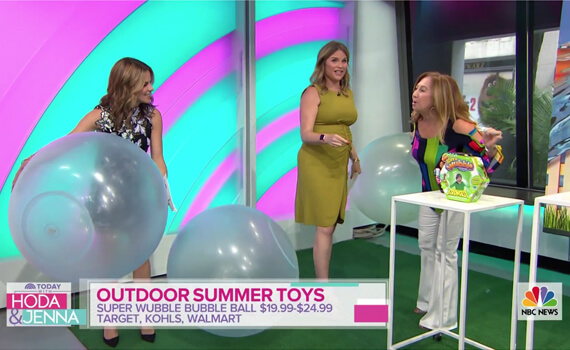 "Not just for kids, because I love this one" she exults, before sitting on a Super Wubble and sinking all the way to the floor. Calling it one of the best outdoor toys that are gonna be a blast for the whole family, she raves "We can bounce it, we can kick it, we can throw it, we can sit on it – it will not pop!!"
With summer right around the corner, Toy Insider Mom Laurie Schacht stopped by original commercial for the Wubble Bubble first hit the airwaves! Since then, the Wubble line has continued to expand to enormous proportions, with no signs of popping!
Wubble Bubble, Super Wubble, Wubble X, Wubble Fulla, Wubble Brite, Tiny Wubble, Tiny Glo Wubble, Wubble Fulla Marbles, Wubble Fulla Slime, Water Wubble…phew!! We get pumped up just thinking about all the squishable squashable ways Wubble has bounced into the hearts of kids and grownups alike. In fact, the spots are so popular, our Hutton Miller Youtube has a playlist completely devoted to all things Wubble!!
Congratulations to a super innovative, wildly fun product that deserves all of the great press it's getting, and to our creative friends at NSI for having the vision and the intuitive reflexes to guide this bouncy creation to new heights!