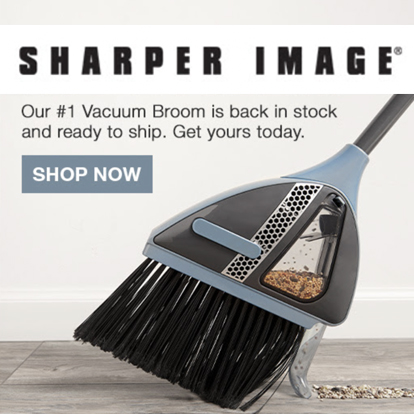 Vabroom: The #1 Vacuum Broom!
Vabroom is now a #1 bestseller in The Sharper Image catalog. The Sharper Image holds a reputation for excellence and is known for curating home goods and gadgets that are simply the best of the best. The 2-in-1 game changer is enjoying a meteoric rise to fame. Vabroom is selling out in stores and satisfying buyers and reviewers alike. Part broom, part vacuum, the Vabroom stands in a class by itself and is rapidly carving its own niche with consumers.
A recent review by Apartment Therapy, the massively popular Webby Award-winning lifestyle blog, sums up what many are thinking when they "heartily recommend [Vabroom], my new favorite cleaning tool." There are so many things to love: Vabroom is made in Minneapolis! Vabroom is light and super easy to put together! It's easy to use! And of course….No More Bending!
We couldn't be happier for our friends at Vabroom, Enhance Innovations and the Sharper Image catalog for the continued success this truly innovative cleaning tool. We are thrilled yet unsurprised that Vabroom has quickly become this years most essential product, and we can't wait to see where it's headed next!