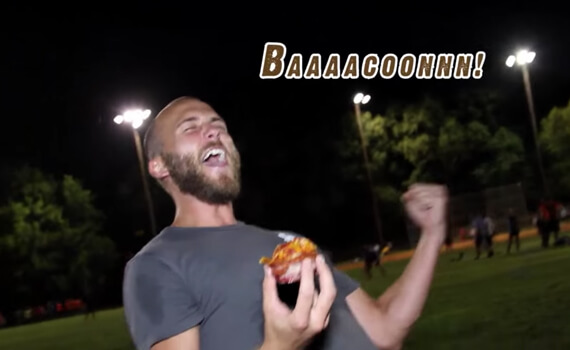 I know a bar called The Great Jones – a small, dense, bright-orange gem tucked between a fire station and Basquiat's first proper studio in the Lower East Side. I used to work there.
The Jones was low profile enough to have regulars. One such regular was Frank: a diminutive, hard-drinking man of many talents. The Great Jones had an amazing free juke box packed full of Southern Blues, New Orleans Soul and a liberal dose of lesser-known hits from the 1960s. Regular Franks' special talent was his ability to locate an earlier version of every riff, melody or chord combination that emanated from the box. Slapping his palm hard on the bar, he'd shout "That's a rip-off! The Stooges did that, man! What a rip!"
Gathering material is one of the quintessential aspects of the creative process. Andy Warhol was famous for gathering visual and concept materials in his Daily boxes of Detritus. The choreographer Twyla Tharp describes a similar process in her quintessential The Creative Habit. Of course, video production is no different in this regard. Every producer has their own style of locating and pulling together the various verbal, musical and artistic elements required to make the client's vision come to life.
This post is about the musical element: the compositions that were destined to become original HM Jingles. Listening to these as stand-alone songs without the overlay of advertising patter is an interesting experience. The time-honored process of digging-in-the-crates is evident in all of these: the gathering, re-forming, distilling, and deconstructing of epic gems that were themselves likely spun out of the intricately balanced web of the collective cultural context of their time.
These are jingles, mind you: songs intended to set off deliberate, yet subtle reference points (while simultaneously pointing the listener toward their own inner state of play.)
Rick Altizer and Marshall Grantham are master jingle writers. Both consummate professionals who store their crates "upstairs," so to speak: they are incredibly well-versed in contemporary sound. Both are adept at weaving together elements to create moods and open memory passageways. Hutton Miller has had the pleasure of working with these hit-making composers on more spots than they can count. I've chosen just three songs from each that showcase their innate (likely subconscious) style of crate-digging. Put on your Regular Frank headphones, and enjoy!
Rick Altizer Top 3
Bacon Bowl:
More homage than reference, this Freddy Mercury-esque rock anthem is actually sung by Simply Queen. Atmospheric, operatic, wailing ballad, crying guitar, yep, yep, yep and check. Click above to listen, or watch the spot.
Big Mouth Mask:
This Sly & the Family Stone-style funky booty shaker has a dash of Peter Gabriel's Big Time and the merest hint of Cameo's Word Up for good measure. Click above to listen, or watch the spot.
J'animals:
Synth pop chanting and video game sounds. K-Pop game: strong. There's artificial daylight in this arcade, let's never leave! Click above to listen, or watch the spot.
Marshall Grantham Top 3
Floam:
Oh-Mickey you're so finely blended with Cars-esque orchestration. The hard-driving Van Halen bridge is a nice surprise. Click above to listen.
Gak:
The original, the only get-pumped 80's stadium crowd jam with fart sounds – yoga teachers, this one is for you! Click above to listen, or watch the spot.
Tummy Stuffers:
OKGo! meets Shirley Ellis' 3-6-9/ the goose drank wine /hand-clapping song. If this doesn't make you happy to be stuffing pajamas into a cartoon animal, what's wrong with you? Click above to listen, or watch the spot.
Caveat: all observations are my own, filtered through my own experience as a non-musician with a below-average memory and ears that just love a good beat.