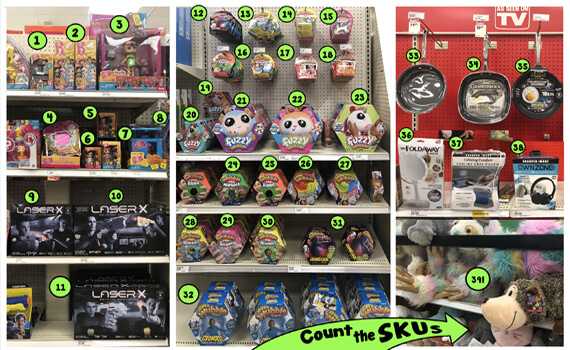 Target's Hutton Miller Obsession
Hutton Miller has produced campaigns that have helped launch at least 39 different SKUs currently on the shelves at Target. Is this a lot? According to John Miller "Yes. 39 is probably the most we've ever seen at once."
A stroll down the aisles at Target is practically a portfolio of what Hutton Miller's been advertising…and extending. With seven different brands and a whopping 30 different line extensions, the evidence is clear: Hutton Miller is a brand builder.
Extensions of Wubble, Boxy Girls, Flipazoo and Laser X feature boldly in the kids section, while three versions of the award-winning Granite Rock/Granite Stone dominate the homewares section along with trend-forward Own Zone Headphones and My Foldaway Mirror. Just below rests the Calming Comfort Knee Pillow, itself a recent spinoff from a successful predecessor: the Calming Comfort Blanket.
We are eternally grateful for our friends at Jay@Play, NSI International, Emson and Allstar Products Group for their commitment to bringing the best of each product to light. Our own creative team is humbled, grateful and excited to be working with all our partners, both old and new, as we express our collective vision of continued success.