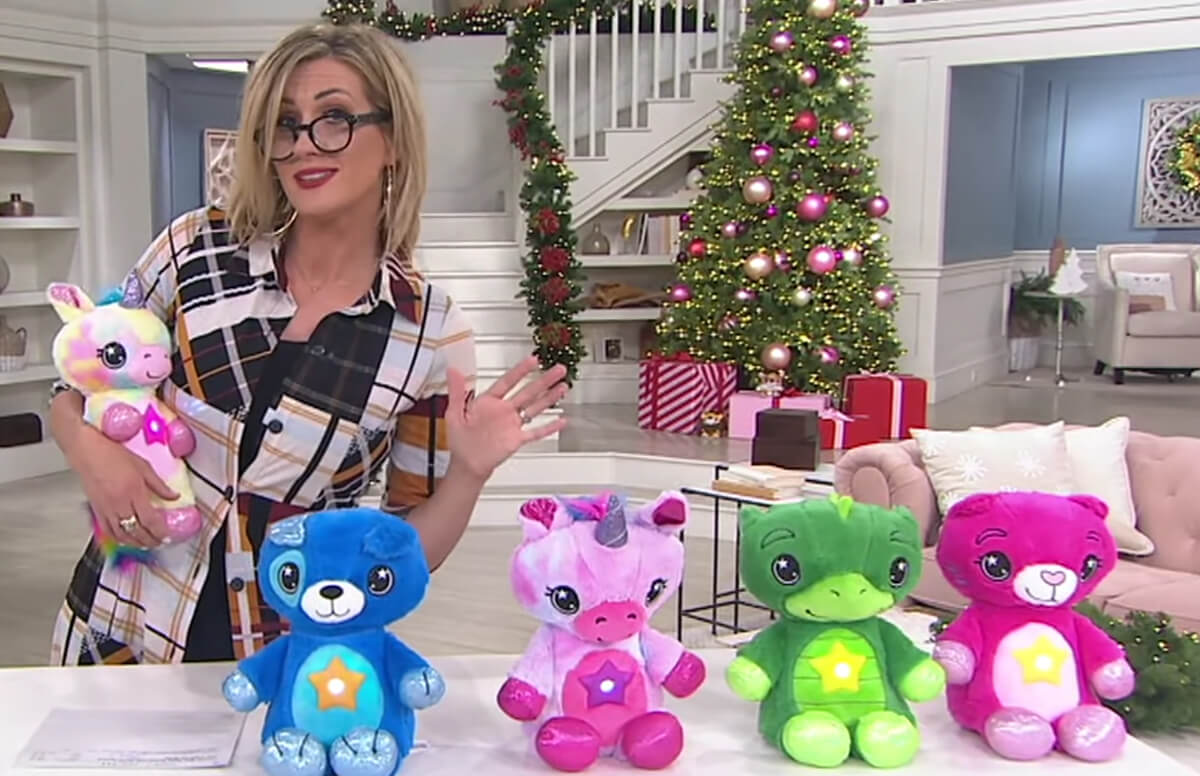 Star Belly Jingle Hooks QVC
She just couldn't stop herself. QVC host Kerstin Lindquist wasn't planning to talk about it, but she'd heard the jingle and simply couldn't shake it loose. "Star Belly, Star Belly, Star Belly, Dream Lites" she chants musically, standing behind a white table filled with Starbelly plush animals. Ms. Lindquist explains that she added a new item to the morning's featured product lineup simply because the toy's jingle was, in her words, "literally cemented in my brain."
Having a QVC host fall under the delirious spell of a jingle so completely that she's powerless against promoting it is almost too industry perfect to be believable. Paid endorsements are the norm but free influencer love is harder to come by.
Yet, in a similar fashion, Instagram star Krissy Teigen also became, in her words "totally distracted" by Hutton Miller's Groovy Wubble rap jingle. Distracted enough to put it on her wish list and to smoosh it on John Legend who (after ricocheting gently) called the Groovy Wubble a "Hanukah Miracle." Star Belly Dream Lites and the Groovy Wubble are both products that deliver, but it is the song that captivates. As John Miller, founder & creative director of Hutton Miller explains, "We never underestimate the power of music."
Music is one of the most important elements of a great toy commercial. Experts agree, a song that typically "sticks" in the mind has a simple, upbeat melody, catchy, repetitive lyrics; and a surprise such as an extra beat or unusual rhythm. Top jingle-makers are song stylists adept at weaving together these crucial elements.
At Hutton Miller, the jingle creating process starts synergistically, and is similar to the collaborative creation of a new commercial. After collectively establishing a purpose and a vibe, the writing process begins.
Peter Hutton and John Miller both write the lyrics then work with a talented composer, most often Rick Altizer, who writes and arranges the songs.
Hutton's cadence is hypnotically rhythmic. His laid back, chant-ready Dr. Seuss-meets-Doug E. Fresh rhyme style perfectly evokes the floating bounce that propelled the success of the massively popular Wubble line.
Miller's style is melodic, referencing musical memories that now reside mostly in our subconscious. Having spent the better part of the '90s as a Billboard Top 100-rated DJ, John's mind is an encyclopedic mental warehouse of satisfying melody. Also possessing an unusually keen sense for the nuances of today's pop, John credits his modern appreciation to collaborative in-the-car DJ sessions with his teenage daughter.
The lyrics are written and relevant sounds are gathered to evoke the toy experience: light and sweet? punchy? goofy? Peter will go into a zone, bouncing rhymes off errant editors and P.A.s before sending his lyrics along. John often sings the lyrics, with melody, into his phone, pausing at intervals to punctuate with sound effects or to suggest instrumentation: "a kazoo here, please!"
Rick Altizer listens. Frequently tapped for his powerhouse of musical abilities, Rick is the composer behind not only Star Belly Dream Lites but a veritable series of HM jingle hits. He is a master at detecting pitch, resolving melodies (or not) and uncovering notes that may only be implied. Rick writes the music and then arranges what began as a collection of evocative ideas and releases them fully formed: as sparkling, attention-grabbing ear candy.
Of course, the great thing about creating a beautiful package is knowing that the best is still inside. Star Belly Dream Lites and the Groovy Wubble are both terrific products with the power to uplift and delight consumers. If their songs stick, so much the better. We can't think of a more fun way to literally sing their praises.