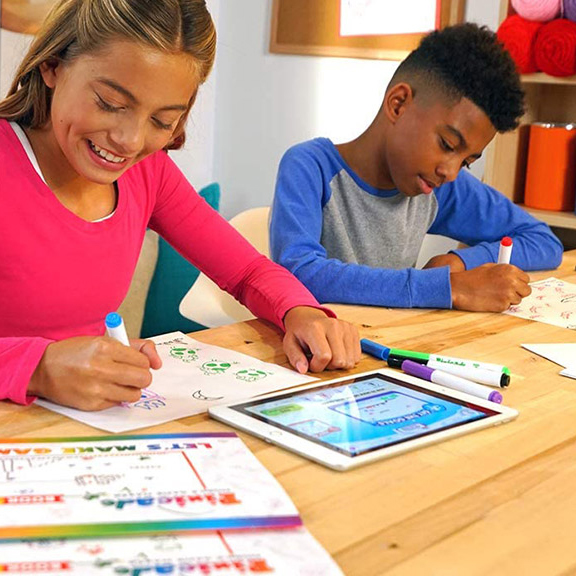 Pixicade – Best in STEAM!
Hutton Miller is part of the Edupreneur revolution! Pixicade, one of our favorite STEAM toys, is leading the charge. USA Today just included Pixicade in their list of the best 2021 gifts for 8 year olds, and Newsweek is spotlighting Pixicade as one of their top "Best of STEM" picks.
"Edupreneurs" are education-focused entrepreneurs, many of them parents and teachers, who are taking the STEAM initiative and running with it 1. Initiated to develop focus in the areas of Science, Technology, Engineering, Art and Math, STEAM toys are quickly becoming the essential bridge between school and home learning2.
When HM was first introduced to Pixicade by the parent-inventor team known as Tink Digital, the toy had already received awards and critical praise. While Pixicade wasn't unsung, it quickly became clear that it was time to help this groundbreaking toy reach its true audience. With the right creatively directed TV exposure, Pixicade would be a Hit.
According to USA Today, "8-year-olds like…gifts that give them a sense of independence and that can help them dive a little bit deeper into their own unique interests.3"
A toy, a game, and a creative studio rolled into one, Pixicade's intuitively developed learning threshold empowers kids to not only learn about, but instantly become video game designers. As any parent of an 8 year old can attest: Video Game Design is a deep dive that is of unique interest to nearly all members of the elementary school set.
Learning by doing makes sense to us. The Hutton Miller creative team relies on exploratory modes of thinking and independently initiated solutions on a daily basis. Nonlinear approaches to tackling new problems are essential to our process. The prototypical maker of a STEAM toy passionately believes in the power of self teaching and often "bristles at the idea that those in authority are in the best position to impart knowledge.4" The STEAM Edupreneurs are, so to speak, our tribe.
At Hutton Miller, our mission is connecting great products with the audience whose desire brought them into being. This connection translates into recognition, expansion and growth. STEAM toys are just a small slice of the overall toy market, but they represent one of the fastest-growing segments. The global market for STEAM toys is expected to grow by nearly $474 million through the year 20245.
The Edupreneur revolution is here, and Hutton Miller is thrilled to be a part of it. We are grateful to Tink Digital for trusting us to engage Pixicade with a major TV audience. And we couldn't be happier for our visionary friends at Allstar Marketing Group who are cultivating the next level of Pixicade success. Thanks to all of our talented partners for including us on what promises to be a great ride.
When it comes to passionate inventors, we can't wait to see what's coming next. As for revolutions, we take comfort in the words of Yevgeny Zamyatin: "There is no final one; revolutions are infinite." For this, we thank our lucky stars.
——-
4. 5. Raupp, Andrew B. "STEM Toys Inspire Their Way Into Pop Culture" Newsweek 11/12/20 https://www.newsweek.com/stem-toys-inspire-their-way-pop-culture-1546973
Raupp, Andrew B. "Best in STEM 2021" Newsweek 4/11/22 https://www.newsweek.com/best-in-stem-2021
Randazza, Janelle "The 28 best toys and gifts for 8-year-olds 2021" USA Today 10/22/21 https://www.usatoday.com/story/money/reviewed/2021/10/22/toys-and-gifts-8-year-olds-best-gift-ideas-shop-right-now/6107619001/