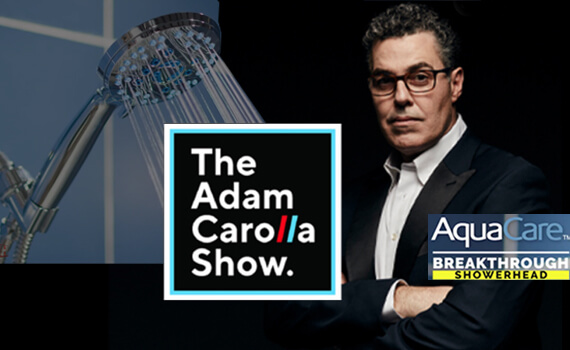 "I Do Love the Commercial"
Adam Carolla's comedy podcast is the #1 Daily Downloaded Podcast in the World, and he loves the new Aquacare antibacterial showerhead commercial.
This is excellent spontaneous press for Aquacare, an excellent product that is suddenly reaching a new demographic of "germ concerned" consumers.

"Everyone is cleaning and rubbing and dubbing…THIS product topped and trumps all other cleaning products for germs." raves Adam. Riffing on Aquacare with Comedian Jodi Miller, Carolla examines the First World (non) problem of germaphobia, as Jodi exclaims "Do you know how many people probably bought that already?"

"Mine didn't arrive yet, I just ordered it Saturday" Carolla deadpans.
Listening to Carolla (the Guinness World Record holder for most downloaded podcast) joyfully dissecting a Hutton Miller production is not only thrilling, it is an honor. He gets into the spot from all angles, dropping f-bombs while drily approving the casting, voiceover and musical score.

Our HMYoutube fans are Carolla fans as well – they tipped us off. After watching the Aquacare commercial a second time, Carolla insists: "I tell everyone, this is why you have to watch the commercials. Stop fast forwarding the commercials!! The commercials will tell you what's going on with society."

One reviewer raves: "Carolla is the sharpest comedian who ever lived!" Of course, we are not in the business of making grand claims, but if we were, we would agree.

Listen for yourself! (The Aquacare bit starts at 0:28:00 min)
The Adam Carolla Show featuring Jodi Miller: