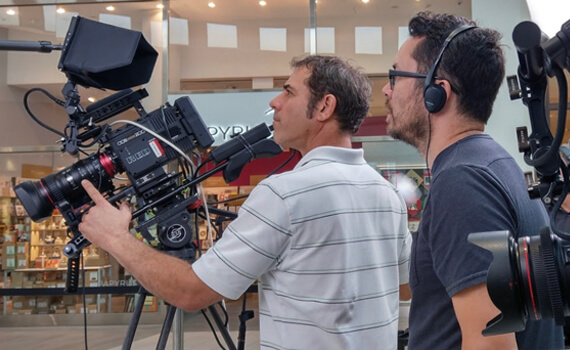 HM Holds 22 Spots for Top-Ranked DR
It's no surprise that with more Americans spending time at home, TV viewership has increased. As more audiences tune in, the Hutton Miller team is doing our part to engage viewers seeking to connect with innovative products that can make life better, easier or just a little more fun.
According to the DRMetrix, a tabulation that ranks spots receiving the most TV airtime, Hutton Miller produced 22 of the currently Top-Ranked DR commercials on air, with 4 spots in the Top 10, 7 in the Top 20 and 11 in the Top 50.
Keeping pace with the changing needs of the public is at the heart of the DR industry, making it logical that last week's single most viewed spot was Clean Zone Masks by Top Dog Direct. Congratulations to Top Dog, a company long committed to improving quality of life through innovation. The DR powerhouse also placed #15 for their original Clean Zone CPAP cleaner, #101 for the skin tag remover, Tagaway, #113 for the Campbell Posture Cane and #119 for Nerve Pain Away.
With seven big hits, E. Mishan & Sons are an undeniably talented marketing presence. Hutton Miller had the honor of producing 7 of their Top Spots, including: #4 Flexible Mirror, #9 GraniteStone/ GraniteRock, #67 Radical Racers, #117 GraniteStone Stackmaster, #120 Tac Putty, #136 Derma RPX and #143 Clorox Scrubtastic. With their tremendous range and vision, E. Mishan & Sons continue to be an inspiration.
Congratulations to Allstar Innovations for their cutting edge #7 Sharper Image Breeze Blast and the popular #12 Calming Comfort / Calming Heat. Weighted blankets have become a buzzword in lifestyle media, describing the feeling of steady calm in anxious times. This latest extension in the Calming Comfort product line is making waves with consumers who've discovered a strong, reliable brand they can trust to deliver real relief.
Jay@Play International's kid-friendly sense of fun is always inspiring. We had so much fun producing their latest hit, #16 Happy Nappers, a cuddly, playful sleep sack. If the game is transforming the house into a staycation including sibling sleepovers and family movie nights, the Happy Nappers fit right in. Not only a hit on television, this fun spot enjoyed a warm welcome from our Youtube audience, attracting over 440k views in its first month!
We'd also like to congratulate our friends at SAS Group for #33 Dream Look Bella Brow, #40 Fuller Full Crystal and #47 Fuller Full Crystal Exterior. Crystal Exterior is a popular line extension of the original Crystal that continues to resonate strongly with consumers taking this opportunity to beautify their home. Meanwhile, Bella Brow is becoming a micro-blading essential. Both lines are evidence that SAS Group is definitely on trend.
Moving up the chart to #50, Ontel Products' Pillow Pad is standing up to the competition. Pillow Pad was already connecting successfully, and now has an expanded appeal for remote learners and from-home workers. We're also excited for the success of Posture Doctor, a timely solution for "couch slouch" coming in at #141.
A big hats-off goes to our friends at NSI International for their fast and fun #53 Laser X and the inimitable Wubble Ball, coming in at #62. Laser X is a major hit with kids who need to unleash energy outside, and its designed great to work from a distance. The Wubble is simply in a league of its own. We're so pleased that cooped up kids can rely on this squishable squashable classic for seriously silly fun! NSI's rare sense for the truly cool in toys makes them both an asset to the industry and a great resource for parents.
Congratulations to our friends at Top Dog Direct, E. Mishan & Sons, Allstar Innovations, Jay@Play International, SAS Group, Ontel Products and NSI International. Thank you for giving us the opportunity to join you in constantly looking for positive solutions and for working to stay on the pulse of what's helpful to consumers.
Wishing you all health, happiness and continued success.
DRMetrix Rankings as of May 17, 2020
1 Clean Zone Masks – Top Dog Direct
4 Flexible Mirror – E.Mishan & Sons
7 Sharper Image Breeze Blast – Allstar Products Group
9 Granite Stone / Granite Rock – E. Mishan & Sons
12 calming comfort calming heat – Allstar Products Group
15 Clean Zone – Top Dog Direct
16 Happy Nappers – Jay@Play International
33 Dream Look Bella Brow – SAS Group
40 Fuller full crystal SAS Group
47 Fuller Full Crystal Full Exterior – SAS Group
50 Pillow Pad -Ontel Products
53 laser X – NSI International
62 Wubble Ball – NSI International
67 Radical Racers – E. Mishan & Sons
101 Tagaway – Top Dog Direct
113 Campbell Posture Cane – Top Dog Direct
117 Granite Stone Stackmaster – E.Mishan & Sons
119 Nerve Pain Away – Top Dog Direct
120 Tac Putty – E. Mishan & Sons
136 Derma RPX – E. Mishan & Sons
141 Posture Doctor – Ontel Products
143 Clorox scrubtastic – E.Mishan & Sons