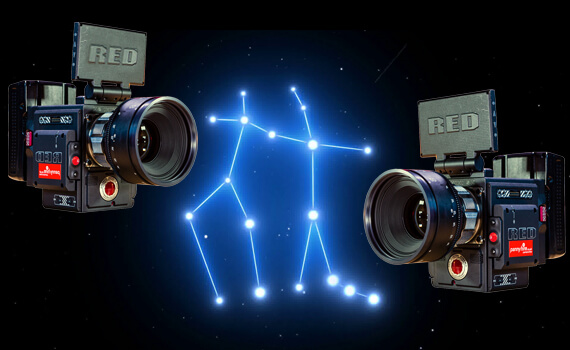 Gemini Twins: Together At Last!
Hutton Miller has added a second RED Gemini Camera to our technical suite, and we couldn't be prouder of our Gemini twins!
Geminis love to entertain, captivate attention and create big laughs. Therefore, Gemini is the perfect name for the camera Hutton Miller uses to captivate their discerning, fun-loving market audience. With two Geminis, we can now deliver even more of the incredible dynamic range and cinema-quality images our clients have come to know and love.
With their Alexa-like color science, 5K 96fps, unreal low-light capability and 16 stops of DR, it's also no surprise that the Hutton Miller Directors of Photography are shamelessly in love with the RED Gemini. Twin Gemini means our DPs have double access to the RED Gemini 5K S35 dual sensitivity modes, and are now able to create their vision with twice the flexibility in a massive variety of shooting environments. No need for fisticuffs in the green room, there's plenty to go around! (As a bonus omen: Gemini are also known to be one of the only signs that play well together.)
We are constantly amazed by the images our DPs are able to capture with the RED Gemini Camera. The Gemini 5K S35 leverages dual sensitivity modes. This means, whether capturing with Gemini's Standard Mode for well-lit conditions or its Low Light Mode for darker environments, RED EPIC-W 5K S35 delivers cleaner imagery with less noise and better shadow detail.
Obviously, this has spread joy all the way to the editing suites. The editors can't get enough of the RED Gemini's ability to deliver unreal image quality. No need to waste time on damage control, it's all good stuff! The post-production capabilities of the Hutton Miller Edit team are literally through the roof!
We were pretty sure we'd love our first Gemini. While it's technical specs were busy enchanting our production team, our marketing team was reveling in it's glamorous origins and pop culture connotations. Originally only a handful were created for a special project speculated to be commissioned for use on Elon Musk's launch of the Midnight Cherry Tesla roadster, StarMan. Intended orbit: Mars, soundtrack: Bowie's Space Oddity.
While the Gemini sensor was developed for low-light conditions in outer space, we're now doubly happy RED brought the Gemini down to earth. We are constantly discovering new ways to enjoy out-of-this-world capabilities in our studio and on location. We like to imagine StarMan driving past the brightstar twins Castor & Pollux as we double our RED Gemini holdings back on earth. High five, Major Tom: Gemini Twins, together at last.