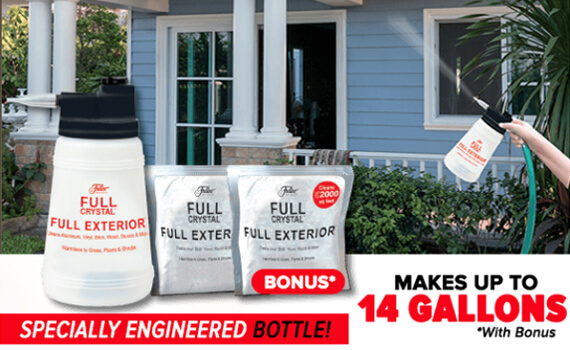 DRMetrix Loves Full Crystal
Full Crystal Full Exterior hits #13 in DRMetrix Weekly Top 40! This is a sequel to Full Crystal, which was No. 24 on the 2018 True Top 50 and is ranked No. 14 this week.
Full Crystal Full Exterior is a home exterior cleaning solution that "Cleans all the dirt & grime from around your house in no time." We were thrilled to create this spot as a follow-up to the success of the Fuller Brush Co.'s original Fuller Full Crystal.
Full Crystal is doing exceptionally well, and even inspired speculation about whether the frequency of environmental weather incidents was creating a bigger consumer demand for an easier, better way to clean home exteriors.
The proof of a product's value in the market place is ultimately determined by it's relevance and usefulness to consumers. An excellent product that's given the proper exposure will inevitably find it's audience, and satisfy it's true purpose. This belief forms the basis of our mission at Hutton Miller: great products deserve great spots!
Market experts like Jordan Pine of The Scimark Report have the ability and the tenacity to track and analyze the performance of a product via metrics and market data. This analysis is incredibly valuable to the industry. It allows for the proper anticipation and preparation a successful product needs in order to stay up to speed with demand, as well as the changing needs of the consumer.
The Scimark Report's recent data indicates a very good reception of the latest offering in the Fuller Brush suite of expert cleaning products. We couldn't be happier for our friends at the Fuller Brush Co. and at Allstar Marketing Group for this great news.
Thanks to Jordan Pine for his thoughtful analysis at The Scimark Report and to the Fuller Brush Co. for their dedication to excellent products. We wish all the best to the new Full Crystal Full Exterior and to all of the satisfied customers who are now benefiting from superior cleaning power!